Bareisho (Potato)
Of the three dry field crops (wheat, potatoes and beets), the Bareisho (potatoes) harvest is very big and is 38.6% of Hokkaido's production (according to the 2010 agricultural statistics by the Okhotsk General Promotion Bureau). In particular, the Shari-Abashiri districts produce the most.
Abashiri city occupies third place, Shari town occupies fourth place, and Koshimizu town occupies fifth place with regard to the harvest in Hokkaido.
By brands, half of the Bareisho (potatoes) produced in Okhotsk are Konafubuki, which is for making starch. For eating, Danshaku Imo (Baron Potato), May Queen, and Kita Akari are the main brands, but they have recently started growing various kinds of potatoes like Inka no Mezame (The awakening of Inca), which is very colorful.
(Main productive areas in Okhotsk)Kitami city, Abashiri city, Shari town, Koshimizu town and so on

(Time of shipment)August-March

(Danshaku Imo (Baron Potato))

They called this potato Danshaku Imo because in the forty-first year of Meiji (1908), the managing director (later,the baron) at Hakodate Dock Ryoukichi Kawada, who had a farm in Nanae, the suburb of Hakodate (the present name is Nanae town) imported it from Sutton Co. in England. It became an excellent brand in Hokkaido in the third year of Showa (1928). Danshaku Imo is now grown all over Japan and has become the standard potato.
This potato can be preserved for a long time, and you can enjoy its flaky texture.

(May Queen)

This was imported in the early stage of Taisho era (around 1910), but its demand increased nationwide around the thirtieth year of Showa (around 1950).
It is long and oval, and looks like the former Japanese oval gold coin, Koban. Compared to Danshaku Imo, this has less starch, which lets it keep its shape when cooked. Therefore, this is very good for simmered dishes.

(Kita Akari)

This was made breeding Danshaku Imo and the resistant potato, Tsunika. It became an excellent brand in Hokkaido in the sixty-second year of Showa (1987). This potato tastes like Danshaku Imo and breaks up easily. This is good for household dishes like mashed potatoes and potato salad. It also has a lot of carotene and Vitamin C.
(Toya)
(Time of Shipment)Mid August - December

This was bred from R392-50, which is potato cyst nematode resistant, and WB77036-2, which is from Y mosaic disease resistant crossbreeding. This was registered in the fourth year of Heisei (1992) as Bareisho Norin 31go (Potato Agriculture and Forestry No.31). This was named after Lake Toya in Southern Hokkaido, which hopes to be a main area of production. It is sometimes sold with the name Koshaku.
It has a spherical shape, germs in a shallow zone, and can be peeled easily. This is good for commercial foods, like primary processed foods. Its flesh is a little sticky and its texture is very smooth. Compared to Danshaku Imo and Waseshiro, this doesn't break down easily when cooked. This potato doesn't turn black, even after it is cooked. It also doesn't have a potato smell like the Danshaku Imo and Norin No.1. It is good for cooked dishes and salads (sliced salads).

(Snow March)
(Time of Shipment)December - January
In the fifth year of Heisei (1993), at the Hokkaido Senmo Agricultural Experiment Station, this potato was bred using Atlantic and Cherokee, and aimed for a potato that is both scab resistant and potato cyst nematode resistant. After that, it was picked and grown at the Kitami Agricultural Experiment Station. The registration of this variety was accepted in the sixteenth year of Heisei (2004).
After the harvest, this potato is preserved until the months of December and January (when it snows). This is done because it allows the potato to become sweeter. They also start to ship at that time. This potato has an egg?like shape and is easy to peel. It can be cooked quickly and doesn't break down so easily, so it's good for cooked dishes. The inside is white and its color doesn't change much. Therefore, it is good for potato salads, too.

(Haruka)

(Time of Shipment) Late August - Mid March

This potato was bred using the T9020-8, which is white inside and has a red surface of germs, and the Sayaka, which is also white. This potato's distinguishing characteristic is that it is harvested frequently. This potato is potato cyst nematode resistant and is good for processed salads.
There is a particular reason for this potato's unique name; since its skin is white and the surface of germs is red, it reminded people of Hokkaido's spring when the snow melts.
This potato can be peeled easily. After peeling, its color doesn't change. It is sticky, but different from that of the Danshaku Imo. It is also tasty. Its shape doesn't change when cooked in water, which is better than the Danshaku Imo. It is good for salads, just like the Sayaka. In addition, this potato can be used for various kinds of dishes; it is good for croquettes, for example, and green groceries, commercially processed foods, etc.
(Inka no Mezame (The awakening of Inca))

This is based on a small type of potato originally from the South Andes. It has been improved in order to be suitable for Japan. This potato has a strong taste and sweetness, so it is called Almond Potato in Sweden and Natty Potato in the U.S.
This has more starch than the Danshaku Imo and Kita Akari, which lets it keep its shape when cooked. The sweetness increases when it is used for cooked dishes like stew and dishes that use oil, like fries.

(Inka no Hitomi (The pupil of Inca))
Inka no Mezame is a very early variety. Unfortunately, it has some faults in that the resting stage is very short and it can't be harvested so often. Inka no Hitomi was raised to make up for this. This potato belongs to the Inca series (colorful potatoes) and has reddish skin. The germ part is yellow and looks like glasses or an eye. Thatfs why it was given the name Inka no Hitomi (The pupil of Inca). The inside is orange and it has both reducing sugar and cane sugar, which makes it sweet like a chestnut when preserved in low temperatures.

(Shadow Queen)

This potato was selected from the open pollinated seeds of Kita Murasaki and was named and registered in 2006. It has a long, oval shape and both its skin and inside are purple. Even when cooked, it keeps its bright color and doesn't turn black. It is sticky like aroid. This potato is mainly used for cooked foods, such as chips and fries. Its purple color is as bright as a blueberry, and it contains a high amount of anthocyanin (petanin).

(Sayaakane)

This potato was bred from I 853, an Indian variety resistant to disease, and Hanashibetsu, a potato that is potato cyst nematode resistant. This potato is suitable for cultivation where a minimum of agricultural chemicals are used, if at all. This is as tasty as Danshaku Imo and easily breaks down when cooked, so it is ideal for cooked dishes like potato salads or croquettes.

(Sassy)

This is a variety that three farmers in Bihoro are trying to grow without using agricultural chemicals. This was raised in France and is round like the Danshaku Imo, but the inside is gold. It has a lot of starch and its texture is flaky. It is good for French fries and potatoes eaten with butter.
(Shirataki Jaga (Potato))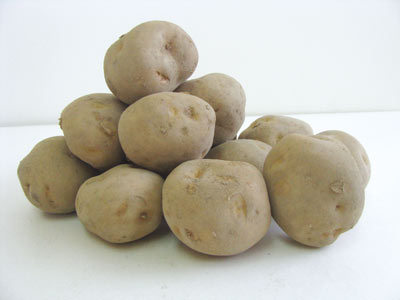 We call all the potatoes grown in the former Shirataki village (Present Shirataki, Engaru town) Shirataki Jaga. The main brands are Danshaku, Norin No.1, May Queen, Kita Akari and so on.
In Shirataki, they grow potatoes at an elevation of 250-300 meters. Because it is grown in a cooler climate, a high amount of agricultural chemicals and chemical fertilizers are not needed or used. It is becoming well known in Honshu, too, because this potato is flaky and tasty.
Even after the town was combined with Engaru town in the fourteenth year of Heisei (2002), they wanted to produce special products with the name Shirataki. So, the farmers who are trying to grow potatoes for eating raw, the Diffusion Center, and related organizations formed Shirataki Jaga Power UP Team, in which a process group was also established.
The process group collects and lists a number of potato dishes for consumers in order to promote local sales. They also hold a potato cooking competition, Jagalympic.


The processed foods of potato
(Tezukuri Kobo Shiretoko(The Homemade Workshop Shiretoko))...Shari town
(Tezukuri Kobo Shiretoko(The Homemade Workshop Shiretoko))...Shari town Shiretoko san Denpun Dango (The Starch Dumpling produced in Shiretoko) 160g 210 yen
This is Denpun Dango made by adding Kintoki mame (red kidney bean) produced in Tokachi to ''the starch powder'', and made from potatoes produced in Shiretoko. A homemaker, who re?created the Denpun Dango that her mother used to make in her childhood, produces it. The sweetness of the Kintoki mame is perfect. This cooked bean is ''the mother's taste'' which can only be made with a homemade recipe. It can be prepared quickly; all you need to do is pour some oil into a frying pan and bake both sides. That's it. It is spreading by word of mouth among the people who want to enjoy its simple and traditional taste. People who eat it for the first time are surprised by how delicious it is.
Tezukuri Kobo Shiretoko (The Homemade Workshop Shiretoko)
30Banchi Shuen Nishi
Shari town
TEL: 0152-23-0132
FAX: 0152-23-0132